29 March 2002
(If you missed the first chapter of the story, please see In the beginning )
On the 17th of March 2003, Ayden and Zac blew out their FIRST BIRTHDAY candles!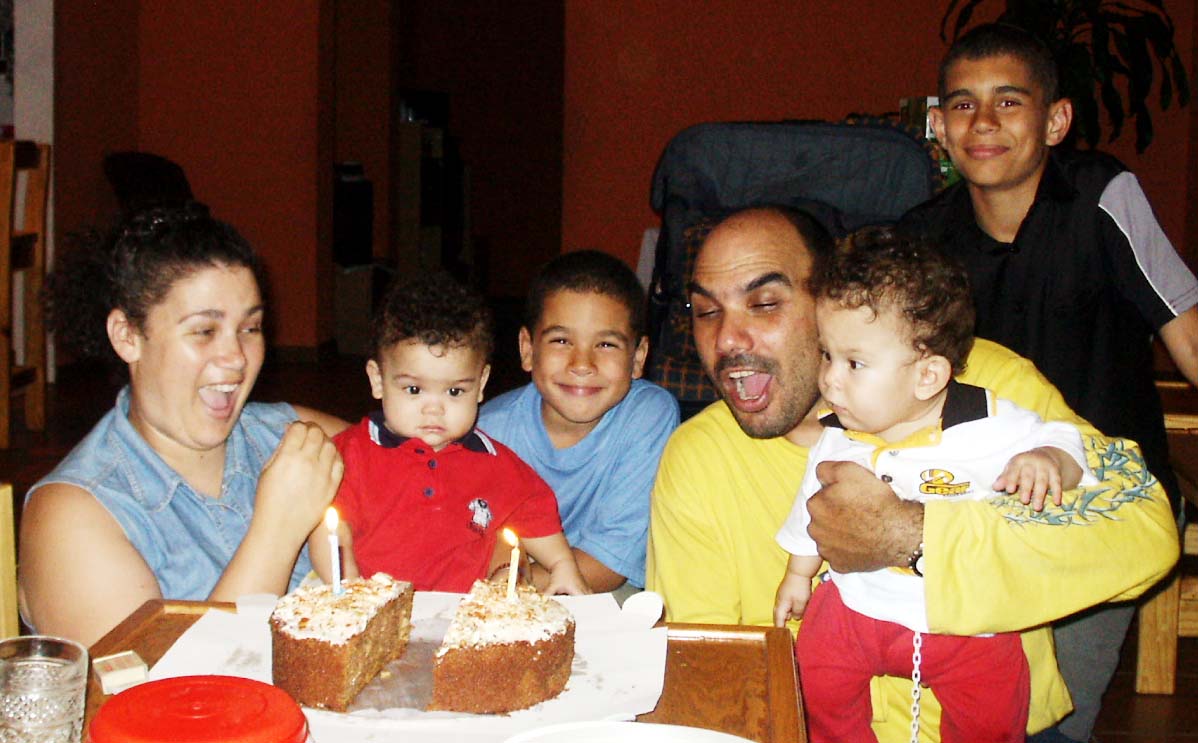 The six of us. . . . . . . . . . . Zac (left) and Ayden

The absence of updates indicate how busy we were and how well both boys have progressed thus far.
More updates to follow soon!
29 May 2002

Firstly . . . .Thanks for standing by us during the past few months.
You are Greatly appreciated!
Well what a roller coaster the past couple of months have been!
Zac looks as if he's been through the wars... and he has the scars to prove it.
His operation was a huge success . Thanks for all the prayers offered in this regard. .His Doctors are very happy with his progress so far. And so are we.
To think that two months ago he was knocking on heavens door. God has really seen him through some rough times and we are eternally grateful to all of you who have been praying with us.

There is one more hurdle for Zac to cross. Due to being pre-term and other related problems his eyes have not developed ideally. The result is that he will need corrective laser surgery. Yep, he will need another operation. This treatment is the least intrusive of the options available right now. So please help us pray that this op will be successful.

Zac did however pass his hearing test with flying colors. This was so good to hear. There has been many tests done on both Ayden and Zac and they are so tired of all the prodding and pricking. When we look back at it all... we can see the benefits and are impressed and grateful for modern technology.

Ayden still has a final hearing test due but so far the results has been good. He is now at home and having his fill of breast milk. I don't think Zac appreciates this. Ayden now weighs in at 2,5 kg and has beautiful round cheeks. He has become extremely demanding and is lapping up all the attention. He also just recently discovered his crying voice. And boy does he love to use it (mostly to ask for food). We have been blessed that his progress so far has been less difficult.

This Smith Family has been through a lot so far and probably has more battles to fight and obstacles to overcome... But by the Grace of God we will be conquerors...

Hey . . .As you noticed the site has received fewer updates recently, and will probably be closer to monthly from now onwards. (we'll send Ayden and Zac the web address when they're 18)
Ricky, Cherry, Rae, Darren, Ayden, Zac